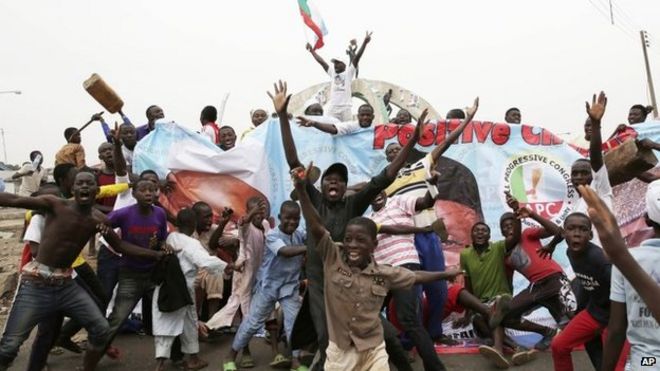 Former military ruler Muhammadu Buhari has become the first opposition candidate to win a presidential election in Nigeria.
Incumbent Goodluck Jonathan telephoned Gen Buhari, 72, on Tuesday night to congratulate him and concede defeat.
Unofficial voting tallies put Gen Buhari more than two million votes ahead of his rival.
Observers have generally praised the election, though there have been allegations of fraud.
A spokesman for Gen Buhari's All Progressives Congress (APC) party praised Mr Jonathan, saying: "He will remain a hero for this move. The tension will go down dramatically."
Gen Buhari's supporters took to the streets in APC strongholds, including the northern cities of Kano and Kaduna, to sing and dance in celebration.
The APC issued a statement after the result was announced, calling for "calm, sober celebrations" and warning supporters not to attack opponents.
"He or she is not with me, whoever does that," the new president said.